by Emmanuel Kirunda Olsights COO & Commercial Director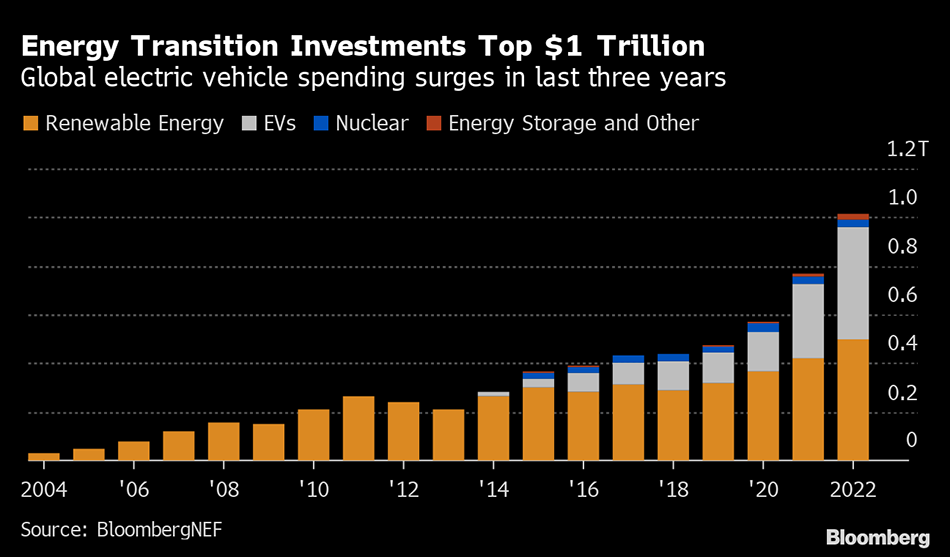 Over the weekend I read through the latest Bloomberg Energy Transition Investment Outlook 2023 and 7 points jumped out for me.
1. Total global Energy Transition [ET] investments increased 31% between 2021 and 2022, to the tune of 1.1Tn USD. 2022 was the first year ET investments have matched Fossil fuel investments for the first time in history. Given the trend, 2023 will see Energy Transition investments overtaking fossil fuel investments.
2. China greatly outperforms the rest of the world. It is more than 3 times ahead of the distant second place US. A sad fact for me is that the UK was the only country in top 10 to drop positions due to a 20% dip in offshore wind investment in 2021. Maybe Brexit has something to do with this.
3. Demand side investment has outpaced supply side for the first time in history. Led largely by electrification of transportation, which saw a 54% growth between 2021 and 2022.
4. Investment in Supply side, i.e. factories and equipment (for lithium ion batteries, solar, wind and hydrogen prod equips) is dominated by China which saw a 91% market share in 2022 at 71B USD (out of the total 78B).
5. Investments in renewable energy and electrified transportation are the two largest Energy Transition investments (accounting for over 87% of all ET investment)
6. Hydrogen investment is still negligible. You hear so much about hydrogen and there are lots of projects being talked about, but only a handful have crossed over to FID and beyond. So almost everything hydrogen is still in concept stage or early stage planning.
7. Alarming fact: ET investments must triple between 2023 and 2030 in order to keep track with the Net Zero 2050 target of <1.7 degrees.
It is the last point that naturally ties in with the work we are doing at Olsights. We started our company with the sole purpose of playing a part in accelerating the Energy Transition by using our more than 45 years of combined Energy Industry Careers to create intuitive visualisations and web-apps that expedite project screening and mapping of supply and demand for decarbonisation projects. We are excited that our global web-app, 'The Olsights Eye' will be coming out this week for a public preview. Stay tuned! In the meantime you can check out our website www.olsights.com to learn about what we are up to.